September 29, 2020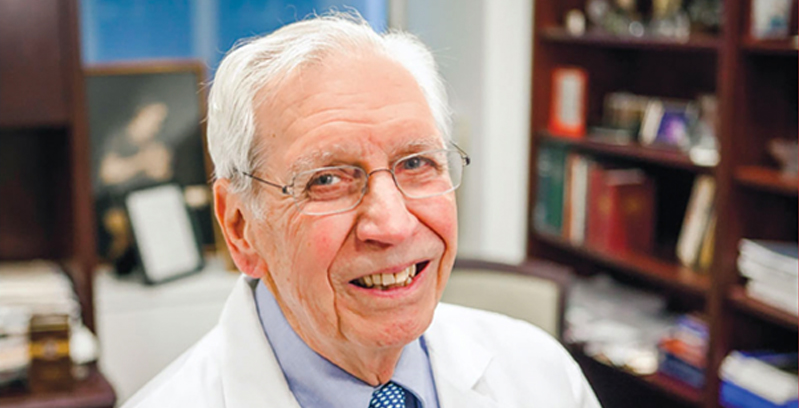 Weill Cornell Medicine is deeply saddened by the loss of our dear friend and colleague Dr. William J. Ledger, a pioneer in the diagnosis and treatment of gynecologic infections. Dr. Ledger was named the Given Foundation Professor of Obstetrics and Gynecology at Weill Cornell Medicine in 1979, when he was appointed Chairman of the department of Obstetrics and Gynecology. Dr. Ledger held this position until 1999 and then became the Given Foundation Professor Emeritus of Obstetrics and Gynecology.
Dr. Ledger received his undergraduate degree from Princeton University in 1954, and his medical degree from the University of Pennsylvania in 1958. After a rotating internship for one year in Erie, Pennsylvania, Dr. Ledger practiced obstetrics and gynecology as a General Duty Medical Officer in the Air Force. He completed his residency training in obstetrics and gynecology at Temple University in 1964 and received a Master's Degree in Obstetrics and Gynecology. He was a member of the full time academic faculty at the University of Michigan from 1964 to 1972, and the University of Southern California from 1972 to 1979.
Dr. Ledger was recognized for decades as a pioneer in the diagnosis and treatment of gynecologic infections. He was an expert in vulvovaginal infections and disease. He was a founder and first president of the Infectious Diseases Society for Obstetrics and Gynecology, and was the first obstetrician-gynecologist elected to the Infectious Diseases Society of America and the National Foundation of Infectious Disease. He was the sole author of the first and second editions of Infection in the Female and co-author with Steven Witkin, MD of Vulvovaginal Infections. Dr. Ledger was also the author of more than 200 articles in peer-reviewed medical journals. He was the chief investigator at one of the major test sites for the first approved quadrivalent Human Papillomavirus (HPV) vaccines, and was a pioneer investigator in a multiple of trials of immuno-enhancing agents to speed the elimination of HPV infections in women.
Dr. Ledger was known to his colleagues, students, residents, nurses and patients as a compassionate, knowledgeable, caring physician who liked a good joke and really liked Princeton football. Weill Cornell Medicine will always remember his impact on the department, the institution, as well as, the field of obstetrics and gynecology.
Gifts in memory of Dr. William J Ledger may be made by clicking here. For more information regarding making a philanthropic contribution please reach out to Samantha Nathan in the Development Office at san2024@med.cornell.edu.