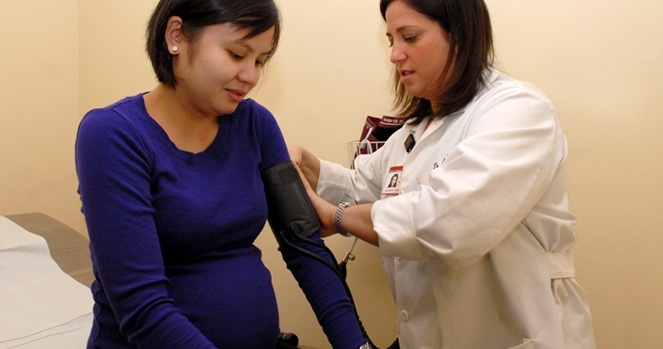 Maternal-Fetal Medicine (MFM) at Weill Cornell Medicine enjoys international acclaim for the quality of comprehensive and innovative care our specialists provide for women and their fetuses during high risk pregnancies. Our physicians are all board certified in Obstetrics and Gynecology and have subspecialty board certification in Maternal Fetal Medicine. Our doctors are academic leaders who bring to all of our patients the benefits of the most advanced knowledge of  obstetrical, medical, genetic and surgical complications of pregnancy and their impact on both mother and child.
Most women seek consultation or care from an MFM specialist because they are either considering becoming pregnant and may be at risk; or because they are already pregnant and have a medical history or condition that requires the expertise of specialists with experience in managing complicated pregnancies with the best possible outcomes.
Medical complications of pregnancy addressed by Weill Cornell Medicine's MFM specialists include:
Heart disease
High blood pressure
Preeclampsia (toxemia)
Diabetes or other endocrine disorders
Kidney or gastrointestinal disease
Infectious diseases
Lupus in pregnancy
MFM physicians also provide special care for otherwise healthy women whose pregnancies are at increased risk due to other conditions, including:
Abnormal AFP (alpha fetoprotein) blood test
Expected twins, triplets or more
Recurrent pre-term labor and delivery
Premature rupture of membranes
Recurrent pregnancy loss
Suspected fetal growth restriction (baby not growing enough)
Delivering outstanding medical care with compassion and concern for every woman is part of Weill Cornell Medicine's tradition of excellence in healthcare. If you or your unborn child has been diagnosed with a high-risk condition, consider a consultation with one of our MFM specialists who can provide the highest level of assessment and care throughout your pregnancy. We also work closely with the physicians in our Perinatal Center to help coordinate every aspect of your pregnancy.
Testimonials
Dr. Landres was very knowledgeable and kind.
"My pregnancy and delivery of my first child was just like a dream, even though I was considered high risk. Every appointment was very quick and on point." -Anonymous 
About Making an Appointment
When you call to make an appointment with an MFM Specialist (please click here for contact numbers), the staff will ask you the screening questions below. The answers you provide will be given to the MFM Specialist for review and the staff will call you back to schedule an appointment within 48 hours.


Name:
Date of Birth:
Age:
Phone Number:
Last Menstrual Period:
Expected Due Date:
Number of Gestational Weeks:
Pharmacy Information:
Insurance:
Conception type:
If applicable, date of Embryo Transfer:
Was it a day 3 or day 5 transfer:
How many prior pregnancies:
Prior delivery mode:
Any problems with previous pregnancy:
Medical or other issues:
Taking any current medications other than prenatal vitamins:
Referred by:

Once your appointment is scheduled, please fill out the 

New Patient Intake Form and bring it to your first visit with your physician.